We recently wrapped up a 35-day, IndieGoGo campaign to bolster our already-in-motion, production of In the Craft Room: The Show. We were at 16% of our $30,000 goal when the campaign ended. There's still time to become a backer and get your name listed in the pilot credits as a co-producer. Watch the video and read on to find out how.
Contribute with
Contribute with
It's no secret that most kids are makers. When my partner, Johnny, and I began the adventure of homeschooling our daughters, we discovered that they both enjoy and retain lessons better when arts and crafts are involved. With that awareness, we began to fuse their love of making things with the subjects in their curriculum whenever we could. This simple concept is the basis of In the Craft Room: The Show.

Giving young creators more STEAM

While art is the main premise of In the Craft Room: The Show, elements of science, technology, engineering, and math play a major role in the series. We focus on explaining processes like decomposition and the role it plays in our lives, chemical reactions between substances with different pH levels, or the growth and development of the animals that live around us. These processes and others are demonstrated via science experiments, math equations, art projects, coding, and discussion in simple and fun ways.
Cultivating Love for Our Planet and Environmental Awareness

Nature and all its wonders is an overarching theme of In the Craft Room: The Show. We investigate everything we can imagine, from the changing leaves in fall to temperature changes in summer.
Furthermore, we work with simple, disposable building blocks like plastics, papers, metals, and old fabrics to create new, fun, and useful creations. While parents who watch alongside their kids may have peace of mind knowing that their child is engaged in quality programming involving worthwhile, educational activities, young viewers are likely to grasp or be reminded that making use of disposable supplies instead of throwing them away plays a role in nurturing our environment. It also exemplifies the personal reward that comes from building something useful by hand.
Representation

Young viewers who watch the show will get a fun, engaging, and informative message from personalities who bring unique perspectives to the forefront. This can potentially broaden what some young viewers believe their career paths can be and bridge a gap between a seemingly intangible perspective and aspirations that feel within reach.
Digital Tools with Every Episode

The lifespan of each episode of the show extends past its time on the screen. Young viewers can download printable tools like templates, worksheets, and coloring pages at inthecraftroom.com before the show to participate during the episode and long after it has ended.

Okey Doughkey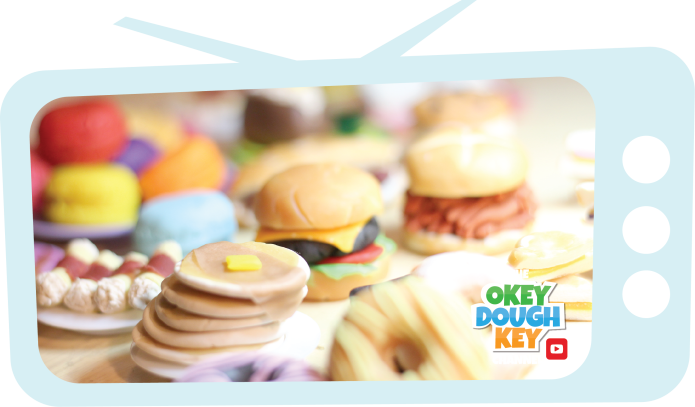 My passion for making kid-friendly programming was sparked during a hiatus from film school when I started making little fake foods from modeling dough to entertain my daughter on the way home from a long drive. While our then, six-month-old slept and Johnny drove, our four-year-old stared attentively while I tore, mashed, and rolled a chunk of royal blue modeling dough into a tiny slice of blueberry pie. A few days later I made 10 short videos demonstrating how to make other little fake foods and put them on a YouTube channel I named Okey Doughkey.
Craft Your Imagination for Kids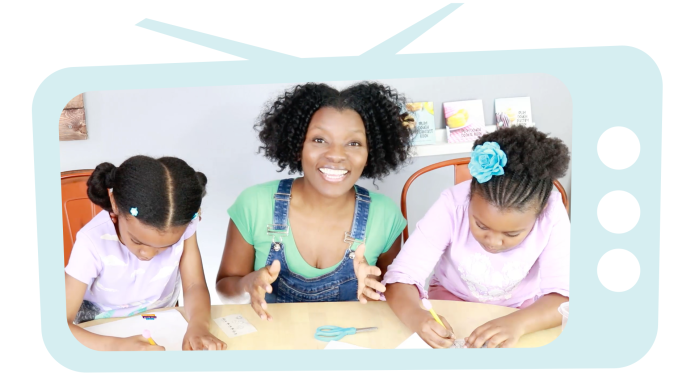 After shopping the Okey Doughkey shorts to a local lifestyle television network, we were hired to create a show called Craft Your Imagination for Kids. On the show, my daughters and I used supplies like empty paper rolls, pizza boxes, and plastic bottle caps to make projects like woodland animals, checkerboards, and ukuleles. And Okey Doughkey morphed into a short segment called Mold in a Minute in which I got to continue to showcase my molding skills.
Surrounded by Science
After delivering two seasons (13 episodes) of CYIK, the station hired us to create another show—a new version of a show called Surrounded by Science. In this show, we use experiments, animations, and recipes to create a mini water cycle, a storm in a jar, Purple Sky Smoothies for young viewers to watch and imitate.
Key Milestones Reached
We began production of In the Craft Room: The Show: Season 1 in October 2021. Since then, we've established the visual branding for the series and completed the content plan for each episode. We've also built and acquired props for the pilot episode and completed the main set design. We've shot the footage for three of the six episodes in season 1, edited most of the pilot episode, and created the digital downloads for it. We've confirmed special guests for episodes 4 and 5 and completed administrative tasks like trademarking and talent release forms.
How your pledge will bolster this project.
Your pledge will fund equipment upgrades that will improve the overall quality of the show. It will also enable us to pay existing talent and hire additional talent like actors, an animator, and a Certified ASL Interpreter for improved accessibility. It will also fund advertising that we'll use to target a broader audience and build awareness about our programming and its benefits. Finally, it will allow us to lease temporary space for sets and acquire new props and the supplies needed to build others.
Unique creative lessons with a focus on STEAM and environmental awareness! That's the value our show will bring to its viewers. When you become a backer you'll play a role in a rewarding venture that inspires a lifelong love of learning. Let's make something together.
Risks & Challenges
On certain days when shooting outdoors is necessary, we may be limited by inclement weather (like heavy rain). We mitigate such risks by adjusting our shooting schedule. We shoot our outdoor scenes when the weather is ideal, even if it means pushing an indoor shoot back (since staged indoor shooting is less restrictive). In many cases, this creates an advantage because it can mean completing portions of the project ahead of time